The 2020 Subaru Love Promise Customer and Community Commitment Award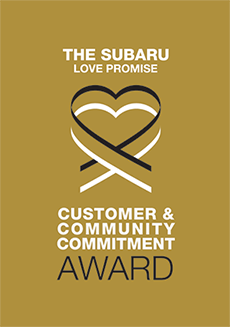 We've been nationally recognized for our dedication to our customers, our community, and the Subaru Love Promise.
We're honored to receive the 2020 Subaru Love Promise Customer and Community Commitment Award. This award nationally recognizes elite Subaru retailers who provide an exceptional customer experience at every interaction with Subaru. These retailers have also demonstrated an outstanding commitment to supporting passions and causes in their local communities in important areas such as the environment, community, health, education, and pets.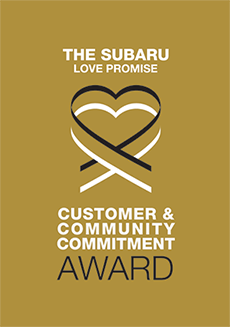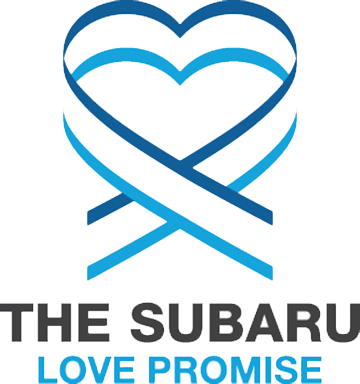 What is the Subaru Love Promise?
Subaru and our retailers believe in making the world a better place and the Subaru Love Promise is our vision of respecting all people. This is our commitment to show love and respect to our customers and to work to make a positive impact in the world.
How is Center Subaru dedicated locally to the Love Promise?
Our Love Promise can be seen in various partnerships with local charities and non-profits. We're grateful for the opportunity, not only to be a part of our community, but to serve it as well.
Housatonic River Adventure
Making Strides - American Cancer Society, Stronger Women Stronger World
Love Promise Stories from Center Subaru
Subaru and Center Subaru believe in making a positive impact on the communities in which we live and work. We uphold that belief through our Love Promise Community Commitment. Every month, we select inspiring stories from customers and partners from around our area who strive to support our collective commitment and feature them here
The Little Guild - Jennifer L
The Little Guild is the oldest and largest animal shelter in Northwest Connecticut. In addition to the daily needs and medical care we provide, we have a variety of programs that help our animals reach their full potential and become successful adoption stories. Individualized training and behavior assessments, playgroups, learning activities, temperament testing, socialization, appropriate exercise and mental stimulation - and most importantly love, love and some more love is given to each animal. We have one of the highest save rates nationally for no kill shelters. The Little Guild is completely dependent upon the generosity of donors, volunteers and the community. That is why we are so very grateful for the partnership with Center Subaru for the October Subaru Loves Pets Campaign. Subaru helped promote each of our available pets this month, resulting in 17 adoptions including Midnight, a beautiful lab mix who had been with us for over 6 months and Eclipse, who had arrived terrified in a small carrier with her kittens and had been with us for 466 days. The enthusiasm we were greeted with when our staff brought some of the dogs available for adoption to Center Subaru to meet Andy and his incredible team was amazing, the dogs basked in their love and affection. For every adoption that occurred in October, Center Subaru will be donating $100 to the Little Guild, helping us in our mission of rescuing, healing and loving homeless cats and dogs. In a year that has been such a struggle, the support and generosity of Subaru has made a crucial difference in the lives of so many animals. Please visit www.littleguild.org to support our mission and view the dogs and cats we have available for adoption. Thank you, Center Subaru, for your encouragement, generosity and love of animals! Jennifer Langendoerfer Executive Director The Little Guild
---
Susan B Anthony Project Walk a Mile in Her Shoes - Ashley C
Susan B. Anthony Project's 3rd annual Walk a Mile in Her Shoes event was held in May 2020, in a virtual format this year due to the Covid-19 pandemic. Walk a Mile is an international men's march where men and boys lead the way on the road to end sexual and domestic violence; the event gives participants the opportunity to get their community talking about a difficult subject while increasing awareness of the problem, offering opportunities for healing, and demonstrating men's willingness to walk with women and children as allies, advocates and survivors. For Susan B. Anthony Project in Torrington, the Walk is a critical awareness event and fundraiser that ensures crisis services are available 24/7 to victims of domestic and sexual violence in Northwest CT. Victims of interpersonal violence have experienced dramatic effects during the pandemic, increasing anxiety and creating even more challenges in victims' day-to-day lives, as many were forced to "shelter at home" with their abusers. SBAP was very fortunate to have had the support from Center Subaru as a Bronze Sponsor of our Walk a Mile event. They were supportive of our switch from an in-person event to virtual, honoring their sponsorship commitment without hesitation. Several male employees even went the "extra mile," posing for social media posts in the iconic red high heel shoes. The sponsorship gift from Center Subaru allowed us to provide critical services to victims of domestic and sexual abuse, including emergency shelter, counseling, and court advocacy, among others. We are so grateful for their support and commitment to help create a safer community for all.
---
Thank You from Connecticut Food Bank - Amy L
At a recent mobile drive-through food distribution, we spoke with Juanita, who was waiting in line. When asked how she's getting food, Juanita replied "Right now, this is it other than one pantry because most pantries are closed. When I'm lucky enough to find out about stuff like this, I come." As she put her car in gear to make her way forward, Juanita shouted, "God bless you guys for making this possible. We do appreciate it." Thank you Subaru for generously supporting Connecticut Food Bank's work of providing nutritious food to people in need.
---
Center Subaru Helps Connecticut Kids - Hedy B
On Sunday, October 13 (rain date October 20), the Connecticut Junior Republic will hold the 7th Annual Cars for Kids Automobile Show on its Litchfield, CT campus. Established in 2013 with the collaboration and support of two local car clubs -- the Simsbury-based Valley Collector Car Club and the Torrington-based Litchfield Hills Historical Automobile Club -- the Cars for Kids Automobile Show raised approximately $5,000 its first year and attracted nearly 150 cars and several hundred spectators. The second year, with an expanded fundraising effort that included the leadership support of Center Subaru of Torrington, the event raised more than $19,000 in net proceeds -- triple the funds raised the prior year! With Center Subaru's sustained involvement and a growing cadre of supporting businesses, individuals, organizations and volunteers, the Cars for Kids Automobile Show continues to grow. The event now nets approximately $25,000 annually and has raised nearly $125,000 in cumulative proceeds since its inception. These funds help CJR provide quality residential and community-based care, treatment and education programs for approximately 1,500 young people and their families annually. While CJR serves young people in ll locations throughout Connecticut, a growing number of the boys and girls who benefit from CJR's programs and services reside in northwest Connecticut and Litchfield County. The 2019 Cars for Kids Automobile Show is anticipated to attract more than 350 show cars and up to 900 spectators. In addition to raising funds that help support extra services and innovative new programs for children and young people, the CJR Car Show helps raise public awareness about CJR's services in communities throughout Connecticut, including Bristol, Danbury, East Hartford, Litchfield, Meriden, New Britain, New London, Torrington, Waterbury, Winchester, and Winsted . In these locations, CJR provides a broad continuum of care that includes residential services for boys (Litchfield, Waterbury, and Winchester); education services for boys (Litchfield and Waterbury); education services for girls (Bristol); prevention and early intervention services for girls and boys in East Hartford, Meriden, and Waterbury, and intensive home-based services for young people and their families through its Danbury and Torrington program sites. CJR also provides vocational training, family support services and educational advocacy in Danbury, Meriden, New London and Torrington to ensure that struggling youth and families receive the services they need to improve family relationships and stay out of trouble. Substance abuse treatment is also offered in several locations, and includes services for young people battling opioid addiction. In Litchfield, Torrington, Winsted, Waterbury, New Britain, Meriden and Danbury, CJR's Wellness Center provides behavioral and mental health services for children as young as two years of age and up through high school and early adulthood. This continuum of care is critical to meeting the increasingly complex needs of youth and families across Connecticut -- including northwest Connecticut and Litchfield county. Center Subaru's loyal and generous support of the Cars for Kids Automobile Show helps CJR provide the care, treatment and educational opportunities that at-risk, special needs and troubled young people need to overcome challenges in their lives so they may fulfill their potential as contributing members of their homes, schools and communities. Thank you, Center Subaru for making an important difference to CJR boys and girls today -- while benefiting the lives of future generations.
---
The Y Grand Prix Race Series - Peter Z
The Y Grand Prix Race Series promotes physical activity to kids and adults from 18 to 79 through a variety of races. Participants come from all over the state to run. With five events- a 5-mile and 5K road races, 5K trail runs, 5K Obstacle Run all with 2-mile walks and 1-mile kids run opportunities, and held In the communities of Canaan, Colebrook, Torrington, Winsted and Litchfield, we can provide something for everyone to participate in no matter the age or skill level. In addition, these races provide opportunities for those not wanting to run, to volunteer and help their community through their local Y's. All total over 700 run and over 150 will volunteer and enjoy these events. With all these events, Center Subaru is recognized as the Northwestern Connecticut YMCA's Grand Prix Race Series Presenting Sponsor. Proceeds from the races allow many children and families, who would otherwise not have the option to join the Y and participate in childcare and other Y programs due to their inability to pay. In 2018, over $35,000 was raised from the race series. These funds were used to provide financial assistance to those in need. It's our goal to make sure that community members, regardless of age, income or background, all have the opportunity to be healthy, confident, connected and secure. By having a successful race series, we can fund life-changing programs that help over 800 children, adults and families in Northwestern Connecticut to learn, grow and thrive. The Y Grand Prix Race Series has become a large part of what helps our Y continue to assist the community and Center Subaru has been at the center of the race series success.
---
Bringing Warmth and Love to Patients! - Daniela V
Center Subaru and The CTWHV Chapter of the Leukemia & Lymphoma Society (LLS) have partnered to make a difference in the lives of people battling cancer in the Torrington community. The partnership called Subaru Loves to Care provides warm blankets and loving messages of hope and inspiration written by Subaru customers to patients fighting cancer at Charlotte Hungerford Hospital. HUGE Thank you to Center Subaru for donating 80 beautiful blankets to Charlotte Hungerford Hospital to spread warmth to their patients. Patients are in the infusion center for hours at a time and these blankets keep them warm as they are going through treatments. On behalf of LLS and everyone fighting or in remission from cancer and the people who love them, huge and heartfelt thanks to Center Subaru and the entire Center Subaru family for joining the LLS mission to create a world without blood cancer.
---
Center Subaru Love Promise Drop Off - Stephen M
My trip to Torrington was unique, to say the least. On my drive over I experienced heavy rain to the point it was difficult to see. I think that the folks from Subaru experienced this as well. I think that this speaks as a metaphor for just what LLS and Subaru are trying to accomplish. Rain or shine (within the realm of safety) we were not about to let down our obligations to the patients. That is what it is all about. Every day it gives me perspective, and every day I am thankful that I have an opportunity to drive in the rain, and while this world can be wet, or cold, or difficult, we can pull through and find a way together through support and love, and speaks to the Love Promise Campaign. A promise is something you keep, and I was not going to let this rain storm get in my way. On my way out, I received a smile from an individual in the waiting room, and it made me think of how every move we make every single day impacts so many people, and to continue to make that a positive impact.
---
MSABC of Greater Waterbury and Litchfield County - Graham K
On Behalf of the American Cancer Society, we'd like to thank Center Subaru of Torrington for their continued support of the Making Strides Against Breast Cancer walks of both Greater Waterbury and Litchfield County. For 3 years in a row, Center Subaru of Torrington has supported the walks as a pink ribbon sponsor, assisting the American Cancer Society in it's mission to save lives, celebrate lives ,and lead the fight for a world without cancer. Sincerely,Community Development ManagersHeather Byron Graham Kobs
---
MSABC of Greater Waterbury and Litchfield County - Amber D
On behalf of the American Cancer Society, we would like to thank Center Subaru of Torrington for their continued support of the Making Strides Against Breast Cancer walks of both Greater Waterbury and Litchfield County. For 3 consecutive years, Center Subaru of Torrington has supported the walks as a Pink Ribbon sponsor, assisting the American Cancer Society in its mission to save lives, celebrate lives and lead the fight for a world without cancer. Sincerely, Community Development Managers, Amber Dunphy and Heather Byron
---
Subaru helping in the time of need. - Timothy W
We are a family of Subaru owners, I have a 2007 Impreza, my husband has a 2005 Baja, My son owns a 2002 WRX and my daughter has a 2011 Legacy. When my husband had his friend stop over with his work truck he parked in our snowy yard and proceed to get stuck. My husband then connected his Baja to the truck and pulled the truck out without any problem. I thought he was crazy and took video to either see if his Baja would be destroyed or if it would really work. (I forgot to mention that the truck was a tractor trailer cab). My husband said that he had faith his Baja could do it and he was right! Below I will attach the video as proof. I think this would make a great video for a commercial. We LOVE our Subaru's! Sincerely Donna Wilde Plymouth,Ct
---
Thank you Center Subaru and NWF - Tara C
On behalf of East School I just wanted to say thank you so very much for you part in organizing and providing us with the amazing program yesterday. The kids, staff, General Manager from Center Subaru, and even the reporter from the newspaper was beyond thrilled to have had this amazing opportunity. Tara Curry, East Elementary School
---
Overlook Blacksox 12u Baseball World Series 2017 - Walter F
With the generosity of Subaru of America, the Overlook Blacksox 12u baseball team out of Waterbury,CT was able to attend the 2017 AABC PEE WEE REECE World Series held in Shelton,WA just outside of Seattle. We were able to use the donation to help offset the travel expense that was incurred by each family to attend this once in a lifetime event. Memories were made for each of the kids and we participated in a total of 5 games with a final record of 3 wins and 2 losses securing third place. We appreciate Subaru's dedication to the community and willingness to lend a helping hand for the boys. My wife and I have a personal relationship with Center Subaru and recently bought our 8 th vehicle from that location. When presented with the request they did not hesitate to see what they could do to help. It was above and beyond what we could have expected.
---
Center Subaru Supports Pro-Am Bicycle Race - David G
Center Subaru or Torrington, CT has been an integral part of supporting the Tokeneke Classic Road Race for many years. The annual event is a professional-amateur bicycle race that takes place in East Hartland and Barkhamsted, CT. It is the Northeast Regional and CT State Championship of road racing. Center Subaru has been a sponsor and has assisted in running the race with Subaru autos providing "lead car" coverage for racers on the road. The promoters are ever-grateful to Center Subaru for their continued support of the bicycle racing community. Without our sponsors, the race could not survive.
---
Love Promise Delivery - Daniela H
On July 26, 2017 LLS staff member Brandy Sinisi met with Marketing Director Kim Bourke and her team from Center Subaru (Torrington, CT), to deliver craft kits, blankets and messages of hope, to Charlotte Hungerford Hospital's Center for Cancer Care. We were greeted by Pam and a few other of the staff at the facility who very grateful for donation to their patients. Pam was already thinking about how she would be able to reach as many patients as possible with these generous donations. She was excited to be able to give them to the patients they treated in the facility and also share them with the facility upstairs that sees other cancer patients. They were also very touched by the many messages of hope they had received from people who had taken the time to write them out not knowing who they might end up with. Kim and her team were able to move into the facility over 60 blankets and two boxes of craft kits. Pam and her team are so focused on comfort and care for each of the patients that is treated in this facility they were proud to show off the healing garden, koi pond and walking trail they have to offer on their property. These are for use for patients, caregivers and even for those who just need a quiet place to reflect. This indeed was a touching delivery that left everyone who attended relaxed, knowing these donations will go to great use!
---
Subaru and NWF Loves the Earth - Tara C
Our school community has worked very hard to create a beautiful school garden! With the help from Center Subaru, we have created a beautiful habitat for butterflies, bees, birds, and even an occasional bear that wanders in to our school yard with the hopes of getting some bird seed! Lowe's donated our beautiful fence a few years back. And many local businesses including O & G, Supreme Industries, Thorncrest Farm, and Bantam Tile donated items such as cinder blocks, mulch, manure, tile for decorative purposes on the cinder blocks. We harvest the food that is grown inside the garden walls to make salsa, and other types of food in the fall for our Harvest Festival. The kids have been trying to identify what types of birds visit our bird feeder and live in our bird house!
---