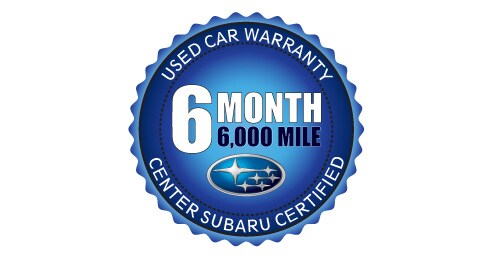 Buy used vehicles with confidence at Center Subaru
Center Subaru prides itself on offering QUALITY pre-owned cars, trucks and SUV's. We take each of our vehicles through a rigorous,
120-point inspection
by our ASE Certified mechanics. At Center Subaru, we only keep the best and wholesale the rest. WE STAND BEHIND OUR WORK with a
comprehensive 6 Month/6,000 Mile Warranty* in addition to any remaining factory warranty coverage for your make, model and year.
It takes less time to do a repair right than to do it over!


What this means to you
Peace of mind knowing your used vehicle is backed by us, DealerRater's #1 Subaru Dealer in CT four years in a row with over 3,200 satisfied customer reviews with a 4.9/5.0 rating!


Comprehensive 6 month/6,000 mile warranty* means no hidden fees or expenses. All covered repairs will be performed at Center Subaru and shall include the full cost of parts and labor with $0 deductible.


Our 120-point inspection process will give you confidence that your used vehicle is dependable, reliable and won't let you down.


Free CARFAX report on our website with every used vehicle for your added protection

Thorough used car inspection and repair
At Center Subaru, we check more than 120-points on each of our Pre-Owned Vehicles, including:
Cooling System: radiator, coolant, cooling fans, belts, radiator hoses, and more!
Lighting System: brake lights, tag lights, head lights, reading lights, interior lights, and more!
Heating and A/C System: compressor, clutch, evaporator, hoses, and more!
Electrical System: alternator, starter, battery, and more!
Engine: engine system, emission controls, spark plus, hoses, and more!
Transmission: fluid, mounts, hoses, lines, shift points, and more!
Suspension system: struts, tires, wheels, frame integrity, and more!
Steering system: rods, pumps, hoses, lines, alignment, and more!
Interior/Body: carpet, upholstery, paint, fuel door release, trunk release, and more!
Brake System: fluid level, master cylinder, parking brake, hoses, lines, and more!
Miscellaneous: drive axles, odometer, spare tire, locks, remote, and more!

What's covered by Center Subaru's Used Car 6 month/6,000 Mile Warranty
ENGINE
Camshaft Drive Belts
Cylinder Heads & All Internal Lubricated Parts
Engine Block
Oil Pan
Oil Pump
Oil Sending Unit
Seals And Gaskets
Valve Covers
TRANSMISSION
Modulator
Seals And Gaskets
Transmission Mounts
ALL-WHEEL DRIVE
Center Support Bearings
Double Offset Joints
Final Drive Housing & All Internal Parts
Hubs And Bearings
Propeller Shaft
Rear Control Arms
Rear Differential Assembly & All Internal Parts
Rear Torsion Bars
Seals And Gaskets
Universal Joints
Wheel Bearing And Spindle
*This guarantee shall include the full cost of the above listed parts and labor for the period of 6 months or 6,000 miles from purchase date, whichever comes first. All labor must be performed at Center Subaru. No outside invoice for repairs can or will be honored by us. Wear and tear items excluded.
Showroom Hours
Monday

9:00am - 7:00pm

Tuesday

9:00am - 7:00pm

Wednesday

9:00am - 7:00pm

Thursday

9:00am - 7:00pm

Friday

9:00am - 6:00pm

Saturday

9:00am - 6:00pm

Sunday

10:00am - 2:00pm