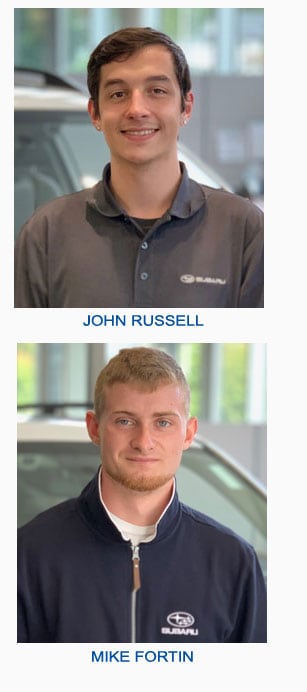 Meet John Russell and Mike Fortin, Center Subaru's Delivery specialists. Their passion is to make sure you understand how to use all of Subaru's sophisticated technology and safety features to get the best experience from your new vehicle.
Often times new Subaru owners get so excited about picking up their vehicle, they can't remember how to use all of the features available to them. That's where John and Mike come in. They'll demonstrate all of Subaru's features, applications and benefits, help you pair your phones and show you how everything works to your satisfaction.

Better yet, they will will stay in touch with you and be available to answer any questions that come up after the delivery. You can even
schedule a follow-up appointment
with them for additional help or to train other family members.
CALL JOHN or MIKE @ 888-869-5889 or use the contact form below.

Whether it's Subaru's
STARLINK Infotainment System
,
EyeSight Driver Assist Technology
, Bluetooth pairing, Android Auto or Apple Carplay, adjusting the rear hatch height or changing the time on your clock - John and Mike know it all!
It's like having your own technology specialist at your fingertips!
For your convenience, here's a quick primer on all of the
Subaru warning lights
along with a detailed explanation of each. We also offer some
"how-to" videos HERE
.