Subaru owners throughout NW Connecticut and surrounding areas trust Center Subaru for their complete service and tire needs, and you should too - because all we do is Subaru! And that's important because
Subaru has some unique tire requirements designed to keep you safe.
In addition, our year-round driving conditions may require a set of winter tires depending on your driving needs. At Center Subaru Tire Center, we offer all the major brands and our experts will assist you in selecting the correct tires to help keep you safe.
When new Subaru tires are needed, choose Center Subaru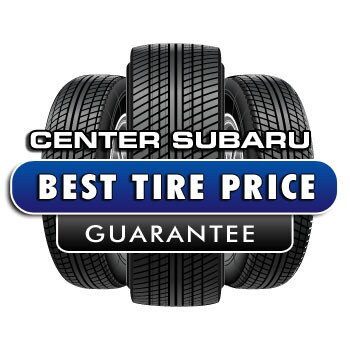 Center Subaru guarantees the lowest price and will beat any advertised price on all of the major tire brands.*
We can do this, even against the big tire chains, because we
only stock tires for Subarus
and avoid unnecessary overhead stocking truck or odd-sized tires.
Contact us using the form below or
Call 888-722-8905 for expert help!

 With the purchase of 4 tires from Center Subaru, we will...
MOUNT and BALANCE all four tires for $59 (regularly $115)
ROTATE tires for $10

FREE, 4-wheel Alignment Check - if adjustments are necessary, the discounted cost is $59 vs reg cost of $115. By doing the alignment check, you don't end up paying for an alignment if it's not needed. The computerized report will show you exactly where you stand!

Free seasonal changeover on the four tires you purchased from us for as long as those tires are serviceable. This means every fall and spring we will mount/dismount and balance your winter tires - for FREE.  (Applies to tires purchased after 12/1/17.)

* Shopping for tires is a lot like shopping for vehicles. With our competitors, what's "free" isn't always "free". NOBODY can beat Center Subaru's Bottom Line Price - on new Subarus or tires!


Center Subaru has partnered with a local lender to offer 0% interest for 12 months with approved credit on the purchase of tires. Please ask us for details. It's a great value-added service to help you defer the cost when you need some extra time. 

Installation
Our factory trained technicians and tire specialists, using current state of the art equipment, will mount and balance your Subaru tires properly, and are always ready to help solve any other tire-related issues. We recommend having your car aligned when you have new Subaru tires installed to help
prevent premature wear!