Record Donation to NW CT YMCA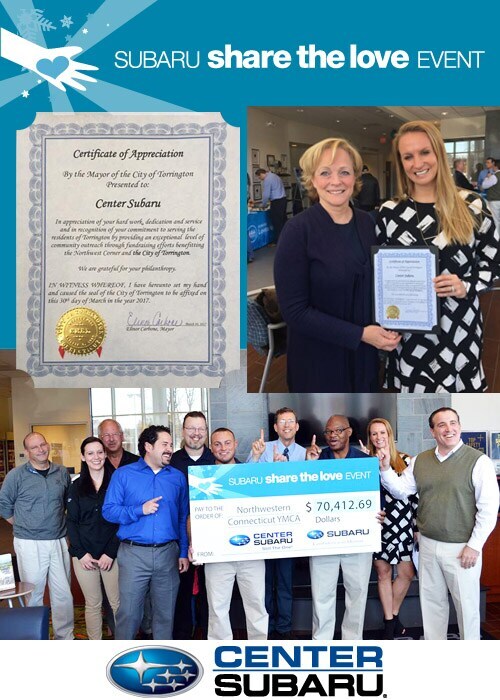 March 30, 2017
One year ago, Center Subaru presented the Northwest CT YMCA with a record-setting donation, helping to assure the Y was able to continue to be there for those in the community who need it most and that its programs and services remained available to everyone regardless of their personal circumstances.

On Thursday, March 30, that record was broken when Center Subaru handed over a check in the amount of $70,412 to Northwest CT YMCA CEO Greg Brisco.

Center Subaru's donation, which was the result of its Share the Love 2016 campaign, marks the fourth year the Y was selected as the dealership's hometown charity, with a donation total now surpassing $164,000. The gift comes about through the hard work of the Center Subaru team, and the incredible generosity of dealership owner Phil Porter - who stands as the only dealer in the Subaru of New England network to100 percent match what is awarded by Subaru of America during the November to January "Share the Love Campaign."

"This donation speaks to our sincere commitment to the community where we live and work," Porter said. "We're proud to match Subaru of America's contribution, and are ecstatic to be able to give back to Torrington, the surrounding communities and its residents."

Making Strides Against Breast Cancer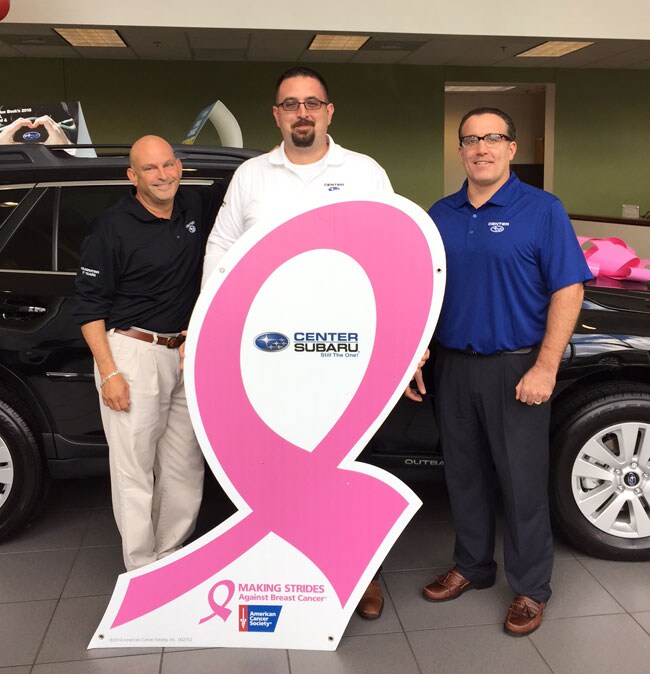 (L to R) Miles Loewe, VP; Joe Cabrera, Sales Mgr; Andy Maiolo, General Mgr
Center Subaru supports Breast Cancer Awareness as the Pink Ribbon Sponsor for the Litchfield Walk on Oct 16th and Waterbury Walk on Oct 23rd. Please join us at these events. Your presence makes a difference!



$63,000 Donation to NW CT YMCA

The Northwestern Connecticut YMCA was Center Subaru's choice of home-town charity during the 2015 Subaru Share the Love event.  Our amazing customers (you!) chose NWCTY as the charity of their choice when purchasing a new Subaru during the event, and we matched those donations to get to the amazing (and record-breaking) amount of $63,000!!!
This brings our 3 year donation total to $95,000! 
 
The NWCTY's mission is to build a healthy spirit, mind and body, in children and adults, through programs that foster caring, honesty, respect and responsibility.  The Y is, and always will be, dedicated to building healthy, confident, connected and secure children, adults, families and communities. Check out the NWCTY website,
http://nwcty.org
, to learn more about this incredible organization and all it does for our local community.